Some of the workshops offered include:
The
NEW

Conversation
Duration: 60, 90, 120 minutes or ½ day
In his unique and engaging style, Dwayne informs audiences of the truthful origins behind police and community conflict. He takes the audience on a journey of enlightenment, informing them of the origins of the conflict. Dwayne shares research highlighting the differences in perception of the police, Department of Justice findings, and the harmful impact of the Code of Silence – whether it's within the community or within the police department.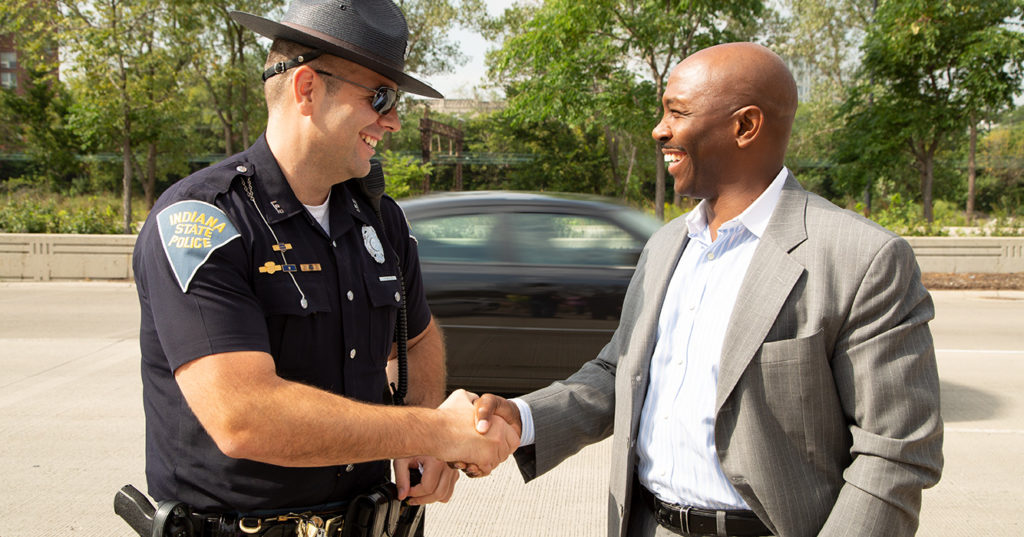 Bullying Education: Facts, Signs and Prevention Tactics
Duration: 60, 90, 120 minutes or ½ day
The Combat Bullying workshop educates attendees on the various forms of bullying, including cyber bullying. Participants will understand the long-term impact of bullying, recognize warning signs, and learn intervention tactics.
Conflict Resolution
Duration: 60 or 90 minutes
Conflict is a normal part of life. Perhaps what isn't normal is how we resolve our conflicts. Conflict Resolution will teach parents and students the art of resolving conflict in their everyday lives.
Goal Setting
Duration: 60, 90 or 120 minutes
Goal Setting educates attendees on how to achieve greater academic and social success by becoming goal-oriented. Participants will learn the difference between long-term and short-term goals. Various terms will be shared to ensure participants understand the various levels of goal attainment. Participants will also be inspired to develop an academic roadmap to ensure their success.
Time Management
Duration: 60 or 90 minutes
Time Management teaches attendees how to manage their time and help their children employ these skills by educating them on various techniques to create a more productive and successful future.

The Journey to Success
Duration: 90, 120 minutes or ½ day
The Journey to Success shows attendees a proven path to success. Students of all levels will be inspired to commit to the journey, learning the importance of discipline, hard work, persistence, resilience, and knowledge of self, which are key ingredients throughout this workshop. This workshop is a must for schools looking to improve school climate and student achievement.
Wakanda Forever
Duration: 60 or 90 minutes
This in-depth workshop allows attendees to personalize the learnings from the blockbuster movie Black Panther. Through character assessments, life skills, social emotional learning, and meaningful discussions, participants will understand that discovering Wakanda is a state of mind and a commitment to excellence.

Building The Winning Team: Student Government | Student Activities | Student Affairs
Duration: 60, 90, 120 minutes or ½ day 
This workshop is a must for organizations looking to create a more productive working environment by taking an in depth look at various team personalities and how they impact the productivity and climate of a team.
Participants will have a greater appreciation for their own personal strengths as well as their colleagues' and will have a better understanding of their role in ensuring maximum cooperation and productivity.
THE LION, THE JUNGLE, AND YOU
Duration: 60, 90, 120 minutes or ½ day 
A perfect breakdown of Disney's The Lion King; 'The Lion, The Jungle and You!' workshop takes participants on an interactive venture into 'the jungle'. 'This Jungle' will be filled with the obstacles and real-life challenges that students often encounter throughout life. Audiences will be engaged through role play, dramatic interpretations, and real-life scenarios designed to challenge students' thinking while inspiring them to make the right decision at the right time. Students will be challenged to make proactive decisions that will lead them toward a successful future.
Impactful S.E.L. Conversations